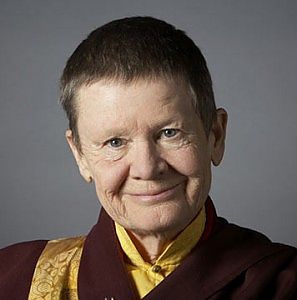 Date:
Sunday 7 February 2021 (11:00 -16:00)

Location:
Stockholm Shambhala Meditation Group
Heldagsmeditation med fokus på Pema Chödröns texter. Öppen för alla
Heldagsmeditation med tema:
The Essential Pema
7 februari, 11.00-16.00
Denna söndag (kanske blir det fler) kommer vi att fördjupa oss i texter baserade på Pemas "talks". Vi kommer att höra, kontemplera, meditera och diskutera dem tills vi kan antingen göra dem till våra egna - eller förkasta dem.
Pema Chödrön has been many things to the many people whose lives she has touched over a lifetime of sharing the teachings of the Buddha and her own life. She has been a shining example of what it means to be a student of the path, a powerful inspiration when we needed to be reminded of what is true in our lives and a good friend during all of the times when that was the one thing that we needed. She has shown up in our lives always at just the right time, as a fellow traveler, grandmother, nag, teacher and cheerleader.
Pema Chödrön is an American Tibetan Buddhist. She is an ordained nun, and student of of Chögyam Trungpa Rinpoche. Pema has written several dozen books and audiobooks, and is principal teacher at Gampo Abbey in Nova Scotia, Canada
Dagen leds av Barbara Nelson, elev till Pema, och Alex Paterson
Datum: 7 februari kl. 11.00 – 16.00
Kostnad: 150 kr. 100 kr för studenter, pensionär och arbetssökande.
Plats: Vi kommer att göra kursen på ZOOM och även Live för max 8 deltagare på Studio Kärleken Skärmarbrinksvägen 6, 121 35 Johanneshov
Kontakt, frågor och mer info: Alex Paterson, apaterson041mail.com, 0762286803.
Instruktioner för zoom
Logga gärna in några minuter innan
Länk: https://us04web.zoom.us/j/9664350560
Password: 166544
Meeting I.D.: 966 435 0560
För att ladda ner Zoom:
Bidra gärna
Vi är också mycket påverkade av Coronakrisen och måste fortfarande betala hyra och andra utgifter
Vårt swishnummer är:: 1236349716
Plusgiro: 1342970-9