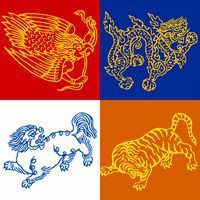 DATE:
Sunday 12 March 2023 (09:00 -16:00)

LOCATION:
Stockholm Shambhala Meditation Group
TEACHER_MALE :
Stefan Wrenfelt
CONTACT : Frida Roa
Retired, unemployed, and members

:
skr
450
The Four Dignities of Meek, Perky, Outrageous, and Inscrutable are introduced as a path and a process, which describe a warrior's maturing and widening sphere of benevolent engagement in the world.
The training in the dignities allows one to maintain awareness and to take greater delight in the world. As the second of the four dignities, Perky focuses on cultivating sharp, vibrant, and uplifted energy through natural discipline. Overcoming the trap of doubt, the warrior of perky is able to accomplish his or her activities with a sense of dignity and ease.
Teacher: Stefan Wrenfelt
Stefan Wrenfelt has meditated i Shambhala since 1996. He followed Karuna training, a three-year education in Holland in buddhist psychology. Since 2007 he is a Shambhala teacher.
Prerequisites:
Shambhala training level 1-5, Gate to the sacred Path/Windhorse, Drala and Meek.
Online or at the Stockholm center
We will use a hybrid format with Stefan Wrenfelt teaching at the center online and on a live stream. Participants can join via Zoom or at the center.
Date: March 12th – 9.00-16.00.
Location: Studio Kärlek, Skärmabrinksvägen 6.
Gångavstånd från T-bana Skärmarbrink, Blåsut och Globen
Course fee
600 SEK full price
450 SEK for members, unemployed, students
300 SEK if you are repeating the program.

Bank details
Shambhala Stockholm
Plusgiro 1342970-9,
or from abroad to
IBAN: SE69 9500 0099 6026 1342 9709
BIC: NDEASESS


Contact
To register and for more information contact Frida Roa
frida.roa[at]gmail.com