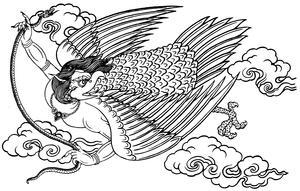 DATE:
Sunday 2 April 2023 (09:00 -16:00)

LOCATION:
Stockholm Shambhala Meditation Group
TEACHER_FEMALE :
Jane Hope
CONTACT : Anna Dahlström
Retired, unemployed, and members

:
skr
450
The Four Dignities of Meek, Perky, Outrageous, and Inscrutable are introduced as a path and a process, which describe a warrior's maturing and widening sphere of benevolent engagement in the world.
The third dignity, Outrageous, emphasizes strength and power of a practiced warrior. It is based on the achieveness of fearlessness. In order to overcome fear, it s necessary to overcome hope. Without obstruction, the outrageous warrior can benefit others on a large scale.
Teacher: Jane Hope
Jane has been teaching since 1981 in the UK, North America and Europe. Born on the edge of the Pennines in the North East of England, Jane studied fine art and, like many of her generation became fascinated by Eastern religions and art. In the late 60's, while living and working with an experimental theatre group and commune, the Exploding Galaxy, she started to hear rumours about an "interesting and outrageous young lama" who was living somewhere in UK. This was Chögyam Trungpa Rinpoche. Jane worked for 15 years as a Bereavement Counsellor working with parents whose baby had died from SIDS (Sudden Infant death Syndrome). She has three published books, including "The Beginners Guide to Buddhism".
Prerequisites:
Shambhala training level 1-5, Gate to the sacred Path/Windhorse, Drala, Meek and Perky.
Online or at the Stockholm center
We will use a hybrid format with Jane Hope teaching online via Zoom and on a live stream at the center. Participants can join via Zoom or at the center.
Date: April 2nd – 9.00-16.00.
Location: Studio Kärlek, Skärmabrinksvägen 6.
Gångavstånd från T-bana Skärmarbrink, Blåsut och Globen
Course fee
600 SEK full price
450 SEK for members, unemployed, students
300 SEK if you are repeating the program.

Bank details
Shambhala Stockholm
Plusgiro 1342970-9,
or from abroad to
IBAN: SE69 9500 0099 6026 1342 9709
BIC: NDEASESS


Contact
To register and for more information contact Anna Dahlström
anna.isabella.dahlstrom[at]gmail.com